The flock of sheep of Exloo
Like in so many Drenthe towns, the sheep herd of Exloo was owned by the farmers from Exloo. The shepherd collected the sheep from the farms in the mornings and returned them in the evening, after a day of grazing on the heath. As compensation the shepherd could sleep and dine at one of the farms.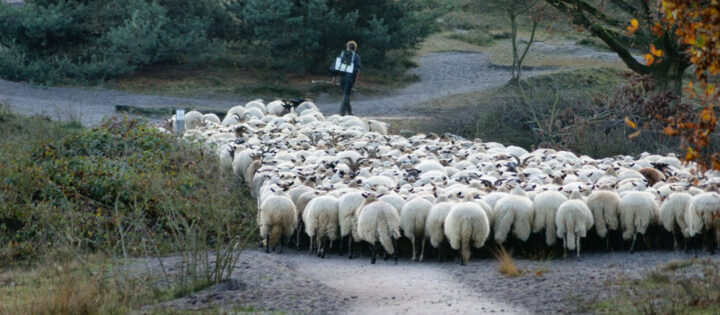 The sheep on the way to the heath
Until 1960 the herd was privately owned by the farmers, but by then it was no longer profitable and it was under threat to be terminated. Following the initiative of the mayor, J. van Roijen, the municipality purchased the herd, so it was saved for posterity. The herd consists of approximately 200 sheep of the Drentsche Heideschaap breed in the lambing season this number doubles.
The sheepherd is housed in the sheepfold right in the center of Exloo. This means that the shepherd has to cross the village with his herd every morning and evening, a unique experience and a beautiful spectacle, as the crossing through the old town seems to stop time in its tracks.
Where can you find the shepherd with his herd?
From the Easter holidays untill the fall break (April till October) the shepherd and his herd cross town every day. Outside this season you can see them in the weekends and in the school holidays. Using GPS you can find out where the shepherd is using the site on this page. We strongly appeal to you to stay on the walking paths and not to cross the heath, because there are snakes and other small reptiles (lizards).
Where to find the sheepfold
The sheepfold is located in the center of Exloo, next door to the farmhouse on the Hoofdstraat 55. There is free parking in one of the general parking areas (follow the signs "Lang Parkeren"). Maximum walking distance is 400 meters on a busy day.
Location data
Sheepfold Exloo
Coordinates: 52°52'56.6″N 6°51'49.7″E