Emmerdennen, the highest point of the Hondsrug
Close to the busy centre of Emmen, behind the hospital, lies the woodland of the Emmerdennen. Local people call the area 'Little Switzerland'. It is a magnificent wood with old sand-dunes. The Haantjeduin (an old dune), at 31 metres above sea level, is one of the highest points on the Hondsrug.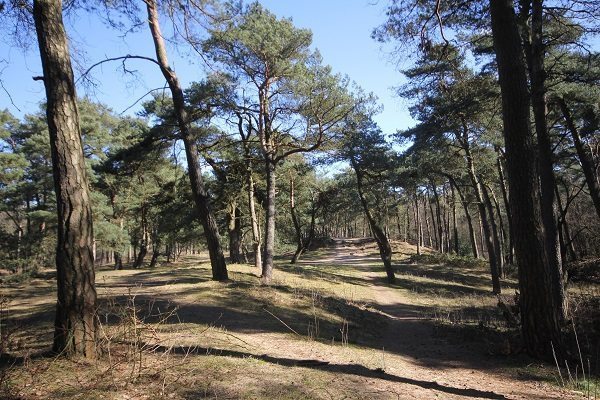 Stabilising the Emmen sand
In the past drifting sand regularly threatened to smother the fields on the east side of Emmen. In the nineteenth century local farmers began to lay turves on the Emmerzand and to stabilise it by planting conifers ('dennen'). The trees did the trick, the Emmerdennen grew and the danger of sandstorms was removed. The Emmerdennen have now matured into a magnificent wood. In Drenthe terms it is an old wood. Moss, ferns and toadstools grow under the trees.
Haantjeduin
Over the years the Emmerdennen have developed into splendid mixed woodland and the town of Emmen has gradually grown up all around. Staatsbosbeheer (Woodland Management Agency) has renewed the former sand-dunes around Haantjeduin. Giant conifers here seem to stand on legs. The wind has blown the sand away from around their roots.
Location data
Coordinates: 52°47'31.3″N 6°54'33.2″E