An ancient wooden road through the moors of Nieuw-Dordrecht
Roughly where the road from Nieuw-Dordrecht to Barger-Compascuum enters the Oosterbos, a unique prehistoric monument lies under the ground: the peat road or causeway of Nieuw-Dordrecht.
Mysterious world
The peat track of Nieuw-Dordrecht was discovered over more than a hundred years ago. In the course of time various bits of it were laid bare. The peat track of Nieuw-Dordrecht was at least 800 metres long, perhaps as much as a kilometer. Thanks to dendrochronology or tree-ring dating, the construction of the track has been precisely dated to the year 2,549 BC. That is the end of the Late Stone Age, the period which followed the age of the hunebeds.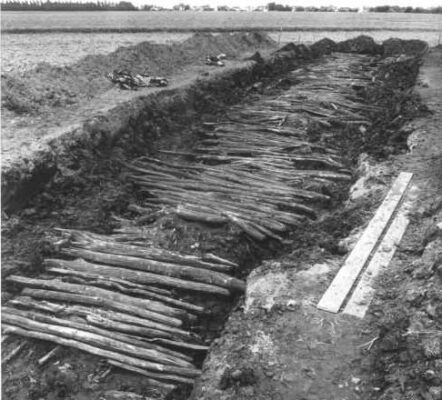 The significance of the track has always been a subject of heated discussion among archaeologists. In order to  bridge the whole morass, the track would have to have been more than thirteen kilometres long, but only the first  kilometre was laid. Was the project a failure, as men once thought? Other archaeologists point to Stone Age finds in the area of the little peat river called the Runde, just one kilometre away. At that time this area was covered in endless peat bogs. A mysterious world, into which the inhabitants only ventured to perform their rituals. Did the track take them to their holy places? Part of the track is preserved in a local museum.
Location data
Coordinates: 52°45'21.8″N 6°59'29.6″E